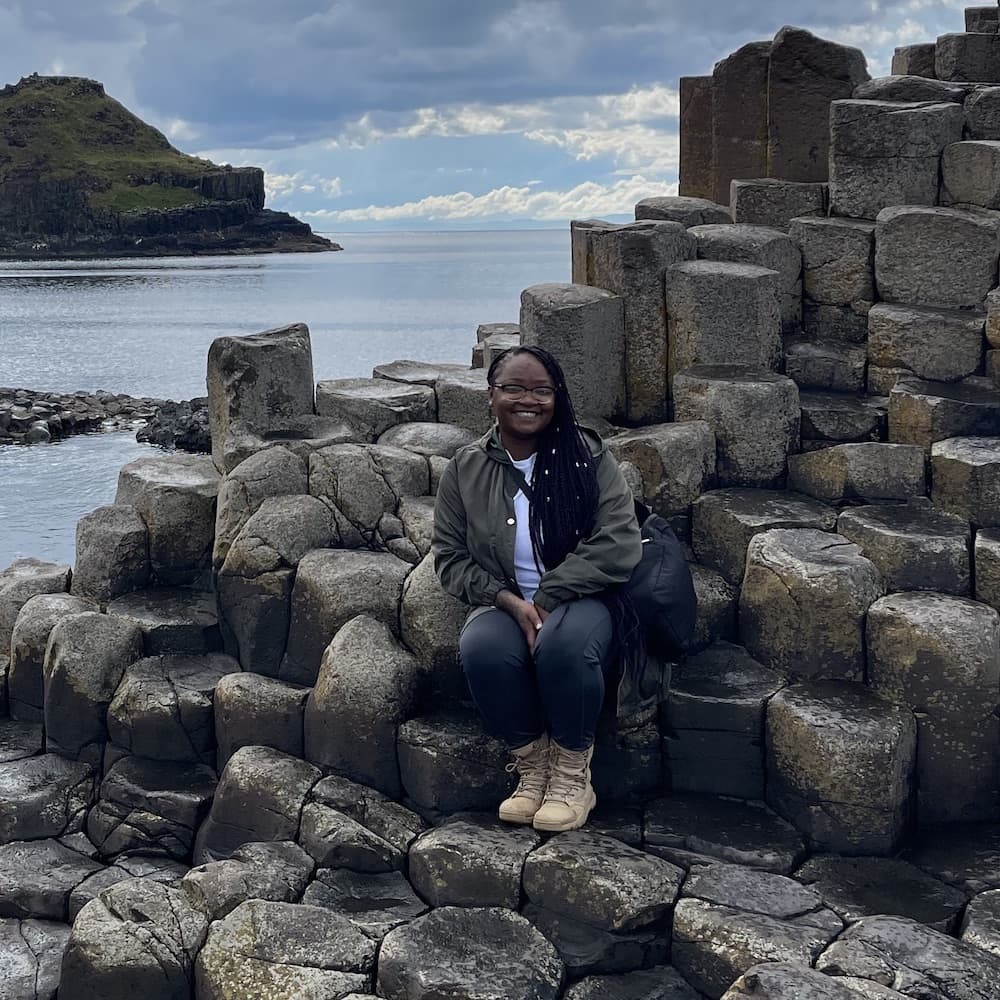 Jaylynn Williams
As an everyday individual not born into wealth, one would think vacationing in Europe is not an easy feat. In reality with proper planning, saving, and research ,vacationing in Europe is easily attainable. As a single 24 year old earning an average salary, Jaylynn has visited 6 European countries in the span of 3 years. With an imagination and a lot of courage, visiting Europe and all of it's beautiful diversity has been an indescribable lifetime experience for her.
❝

When people ask me about traveling, I always say the feeling it gives me is unexplainable and it is something I wish everyone could experience.

❞
Hello! What's your name, where are you from, and where have you travelled to in Europe?

Hello, and thank you for having me! My name is Jaylynn I was born in Atlanta, Georgia but currently reside in Fort Worth, Texas. I've visited The Netherlands, Belgium, France, England, Ireland, and Scotland.

In one sentence, why should someone travel to/through Europe?

I believe one should travel to Europe to experience the opportunity of exploring a major multi-cultural hub; the possibilities are endless for every type of traveler.

What motivated you to take your first trip to Europe?

Simply doing research and realizing how reasonable a well-planned vacation can be prompted me to take my first trip to Europe! Most people assume a vacation to Europe will be too expensive, but with careful planning, prioritizing savings, and organizing accommodations & means of transportation ahead of time, a trip to Europe is well within reach.

Who were your travel partners on your last trip to Europe?

I've never traveled with a partner or friends (yet) on any of my international vacations, so far all of them have been as a solo traveler. Definitely wouldn't change a thing, traveling alone has taught me so much about myself and given me invaluable memories.

What went into planning your first trip to Europe?

I've always considered myself to be a planner in everything I do, which came in handy when it was time to organize my first vacation to Europe. Many people ask me how I plan my trips, and my answer is always Google. Type in any query you have about traveling or the destination you're interested in, and you'll find hundreds of blogs and travel posts/websites with excellent advice at your fingertips.

In my opinion, thorough research is the foundation of a great trip. I use Google to get useful travel suggestions because it is the most convenient, but I also watch how-to videos on YouTube and travel vlogs for inspiration. The internet is your best friend when it comes to organizing the perfect trip! I have to mention Reddit also has amazing forums that offer more personal perspectives from people who have experienced countries that one may be interested in traveling to.

If you had to plan one final, perfect Eurotrip, what would the itinerary look like?

This question makes me laugh because I think it's the most difficult for me to answer right now. As I already mentioned, I am a serious planner, so even a question like this would take me a month or two to answer because I would need to do extensive research! There are still many countries in Europe I intend to visit, and planning "one final, perfect Eurotrip" right now would likely lead me to spend over three months in Europe trying to fit in every country I have yet to see.

If I had to give my top four countries currently on my bucket list it would be the following: Switzerland, Luxembourg, Italy and Russia!

What's your advice for first-time Eurotriprs who are just starting to plan a trip?

I'll begin with the most important piece of travel advice I've learned thus far: don't waste time waiting for others to join you on a trip. It's wonderful to have friends and family tag along on a vacation, but more often than not you will run into situations with people who get cold feet or have other obligations that prevent them from coming, which is understandable. If you still have the option to go on the trip, even if it's by yourself, I seriously encourage you to do so. You never know when another opportunity to make new memories will present itself.

Additional advice I will give is to book all you can as early as possible while planning a trip, even if your trip is 6 months or more away; your pocketbook will thank you. Whether you choose to stay in a hotel, a bed & breakfast, or a hostel, check reviews for EVERYTHING, not just your accommodations. Look at cafés or restaurants near where you will be staying to get a sense of the possibilities available to you.

Finally, I would recommend creating a "loose itinerary," which means not creating a back-to-back plan full of things you feel obligated to do. I believe this takes away from the spontaneous moments that often turn out to be some of the best memories of a vacation. It's a good idea to develop a list of things you want to do, but always keep your options open.

What have been some of the biggest challenges you've faced when planning your Eurotrip?

To be honest, I've been blessed being that I haven't had many problems planning vacations to Europe. When I think back to the first vacation I planned, I learned a lot about time and money management from the experience. There will be times when things change at the last minute, and you'll need to be prepared to roll with the punches, for example like now with many travel restrictions lessening and others tightening again due to the pandemic. That's why doing extensive research and planning is more important now then ever.

In your opinion, is Europe an expensive place to travel? Why / why not?

This is an excellent question, and I believe the term "expensive" is subjective depending on who you ask. Again, everything comes down to planning; if you plan a trip at least 6 months in advance or earlier, the cost will be substantially lower than if you wait until three months before your ideal dates. Maya Angelou's remark is one of my favorites "Do the best you can until you know better. Then when you know better, do better."

Overall, I do not believe traveling to Europe is expensive; there are numerous ways to save money when traveling, such as booking an Airbnb instead of a hotel, taking advantage of how walkable most European cities are, a quick google search of "cheap eats near me," and a lot of major attractions, such as museums, beautiful city halls, and other historic locations, are all free to visit in most cities. Do your research, create a budget, and stick to it!

What are the 3 most important things to consider when packing for a trip to Europe?

My answer to this question varies based on the season I'm traveling in, but a European plug travel adaptor is the most important thing to bring with you no matter what! On my first trip, it never occurred to me that their plugs would be different from those in the United States (An example of what I'd like to call a "American mindset"). My aunt asked if I had already purchased an adapter a few days before my first trip, and I was so grateful she had because it would have been a bit stressful landing in Europe with a low battery or even worse, a dead phone, trying to find somewhere that sells adapters for American plugs, so always make sure you pack at least one, but two is ideal in case you bring multiple items that need to be charged.

Second, comfortable shoes are essential. No matter where you go in Europe, you will most likely be walking for a significant chunk of the day, and there is nothing worse than being uncomfortable while on vacation.

Finally, I'd recommend a nice "every day" anti-theft travel bag or backpack. I've never felt unsafe or uneasy while traveling, but an anti-theft bag provides a sense of security and comes in handy because they are usually made to be very spacious and durable, which is ideal for a trip.

A bonus tip: a mini umbrella is something I would recommend packing regardless of the season, as light rain is always to be expected year round.

How would you pack differently for a 1-week trip to Europe versus a 1-month trip?

Getting ready for a one-week trip I would only bring a carry-on bag or suitcase; durable and spacious luggage is always ideal. If I'm going on a trip for no more than a week, I usually buy travel size toiletries to save space. Packing for a month-long trip is a little different, so I use my two-piece baggage set. The airlines has one suitcase "checked in," while I have the other as a carry-on. My primary toiletries are always in the checked luggage because some of them exceeding the carry-on bag allowance for liquids, and I've learned the hard way that European airport agents don't mess around with liquids in carry-on bags; your bag will be pulled for double screening every time.

When packing for a month, keep in mind certain airlines only accept checked luggage up to a maximum weight limit, and if your bag is considered overweight, you will normally be charged a fee. A travel hack I always use is bringing a small backpack as my "personal item" no matter how long the trip is, and that backpack usually holds my purse, laptop, portable battery, and other small items I like to keep accessible at all times.

Another thing to keep in mind is if you plan on bringing souvenirs home, make sure you leave enough room in your suitcase or carry-on bag!

What is your favorite destination in Europe? Why?

I had to think on this question for a bit, and the answer surprised me. So far, Belfast, Northern Ireland, has been my favorite European destination. I stayed in Belfast for 17 days, the longest I've ever been in a single city, and it completely charmed me. The history of Belfast is enough to get lost in; being in the city where the Titanic was built, as well as learning about the violence and suffering that occurred there during "The Troubles" in the later part of the 20th century from museums and the perspective of locals who would talk to me about it. To see how far the city has progressed and how proud citizens are to call Belfast home, as well as having visitors from other countries come to see their "wee city" as my friendly neighbor put it. The people alone are one of the best parts of Northern Ireland.

I also used Belfast as a base to explore a large portion of Northern Ireland; thanks to trains and buses, you can travel anywhere in the region in a reasonable amount of time and without breaking the bank. Incredibly stunning scenery everywhere I went, and I still didn't get to do all I wanted, but I'm sure this will just give me more reason to return to Belfast one day soon.

What was your first trip to Europe like?

My first trip to Europe was for five days in the summer of 2018. My flight landed in Amsterdam, but my accommodations were in Zaandam, which was only a 12-minute train ride away. After a full day in Amsterdam, Zaandam was the perfect setting to return to because it was more relaxed and slow paced. I was lucky enough to stay in the unique Inntel Hotel Zaandam, which is well-known around the world for their gorgeous multicolored architecture that is also seen throughout the city. Everyone I met was incredibly polite and helpful in pointing me in the right direction or giving me advice.

Visiting Europe in the summer shocked me with how late the sun stayed out; the sun didn't set until after 10 p.m. Even though the sun was out late at the time, I didn't have the confidence to tour the city at night since I was nervous that I would become a "target" because it was my first unaccompanied trip. After several solo trips to Europe since then, I sometimes laugh at my first trip since I feel absolutely comfortable by myself at night in every city I've visited in Europe, but those are usual anxieties when doing anything new, and it's all about the experience.

I quickly learned in such a crowded city as Amsterdam, especially during peak tourist season, it was easier to walk almost everywhere rather than spend money on cabs or uber, and when you compare the time difference, walking rather than taking a cab will likely get you to your destination faster. I always find it ironic this trip was originally planned to be taken with friends, but things came up and they were no longer able to come, but I had already purchased my ticket, so I had to decide whether to cancel the trip or go alone, and taking a leap of faith to go solo was one of the best decisions I've ever made.

Can you tell us about a funny story/situation you've been in when traveling in Europe?

One experience that stands out in my mind is when I travelled to Paris, France. Everything went smoothly when I checked into my Airbnb, but I only had one day in Paris and wanted to see as much as possible while there was still daylight, so I dropped my bags and went exploring right away, but when I got downstairs, I couldn't figure out how to get out of the building to save my life.

Obviously, I saw the exit doors, but when I went to open them, they were locked shut. I started panicking since I couldn't figure it out and no one was nearby to ask for help. Of course, my mind went to the worst-case scenario, believing I was involved in some sort of kidnapping plot! After about 20 minutes of stressing out, I realized I needed to message the Airbnb owner and ask how to get out of the building, and it turned out what I thought was a light switch was actually the control switch to unlock the door.

I didn't think the situation was amusing at the time, but looking back on it now, I can't help but laugh at myself, my first "funny travel story" in the books.

How do you find social connections while traveling around Europe?

I believe making social connections when traveling depends on the type of traveler one is. I've never had any difficulty making new friends, and it typically comes naturally; for example, if I'm asking for recommendations, a conversation will naturally arise, or if I'm sitting at a bar, people will approach me and start talking. I don't shy away from dating apps since I am a single woman; I've gone on a few dates while traveling, and even if none of them ended in a romantic way, it's always a great way to meet people and try new things. I would also just advise to any solo traveler, it's always nice to make new friends around the world but just make sure to be careful and keep your wits about you.

If you've travelled through Europe more than once, what has changed in how you plan your trip now from your earlier trips?

I still plan my trips roughly the same way I did when I first started traveling; in fact, few things have changed while the number of trips has increased. On my first trip, I used Expedia to book my ticket and hotel together, so it was basically a third-party travel company, and everything went smoothly; I had no problems. If anything, I would advise a first-time visitor to Europe to book through a website such as that so all of their information is in one place and they usually provide great rates.

After my second trip to Europe, I decided to branch out and try Airbnb's for my accomodations. Staying in a home rather than a hotel adds to the experience of living like a local rather than a tourist, and the privacy is always a plus.

What's changed since my most recent trip is I'm paying more attention to my flight times and check-in times for my accommodations because there have been a few instances where I've arrived in a city and still had a few hours to wait until my rental was ready, so I'm just being more time conscious when planning now!

What does travel give you that everyday life doesn't?

Travel allows me to simply just exist without any true obligations; I can take the time to experience the world while learning more about myself, especially as a solo traveler. There's nothing quite like being in a foreign country where no one knows you and your only "job" is to learn about the culture and take in all of the new surroundings. Being able to walk in the footsteps of history, as well as in present times where a city or country is just home to someone else, is almost like walking into Narnia for me. When people ask me about traveling, I always say the feeling it gives me is unexplainable and it is something I wish everyone could experience.

When you come home from a trip to Europe, has it changed you? How?

It's always bittersweet for me; I'm really glad to see my friends and family when I get home, but I can't help but feel a tinge of sadness because I miss being out in the world. I think my first trip to Europe still has the most profound effect on me because leaving America and experiencing how other people live across the world for the first time really changed my perspective on a lot of things. Also, prior to traveling outside of the country, I would spend a considerable amount of money on materialistic items, but now that I've realized my passion for travel, I'm cautious about purchases because I remember this could be saved for travel funds! Being that I plan my trips so far out in advance, saving money sometimes is hard because you think about material things. However, I always remind myself the feeling that planning and completing another trip brings me, and it gives me the perseverance to keep going!

What advice would you give Eurotripprs who may be nervous about travelling to Europe?

If I could give any advice, it would be to just book the trip and do as much research as possible, tons of information is always available and the world is not as bad as it is perceived to be. People always have a preconceived notion or image of a place they have never been, whether positive or negative, but you will never know until you actually experience it for yourself.

What do you wish you knew before your first trip, that you know now?

The only thing that comes to mind is on my first trip, I carried a stack of printed documents "just in case" someone needed to double-check anything. I was definitely a little over-prepared, but that's never a bad thing. To be honest, I wouldn't change a thing about my first trip; all of the knowledge and experiences I've gained since I began traveling has always come at the right moment and helped me plan future trips. When you know better, you do better.

Two months in Europe: How would you spend it?

If I had two months to spend in Europe right now, the first thing I'd do is look for a European railway map and figure out the best route to see as many countries as possible by train! No matter which country you visit in Europe, every cross-country train ride I've had has been nothing short of breathtaking, and the price is unbeatable, especially when compared to buying airplane tickets. Traveling by train for two months would be perfect for me, especially since you don't have to pay for luggage!
---