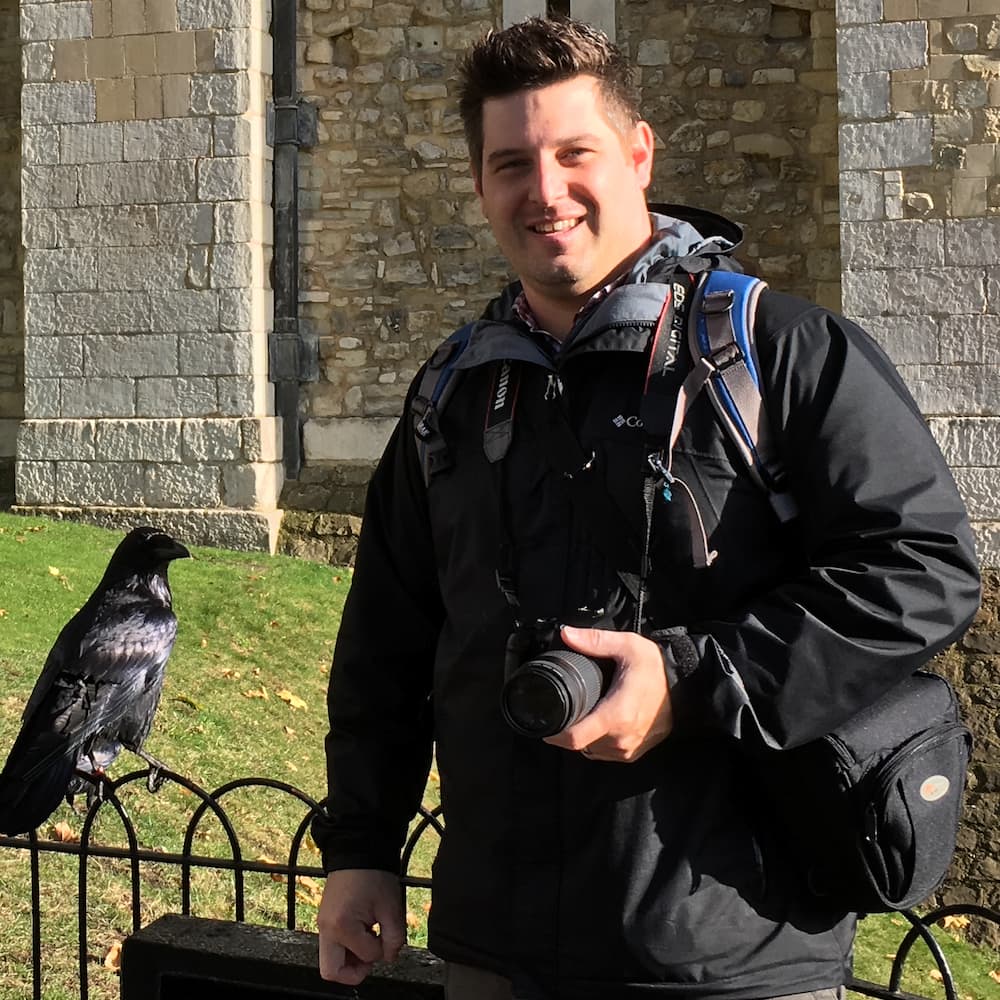 Craig Campbell
On his first trip, Craig spent an entire summer in Europe on a budget of $3,500 with four friends. Since that first trip he's only been back twice, but his obsession with European travel has never left. Technology has changed how Craig travels, but he insists it's easier than ever to maximize Europe's thrills and keep costs affordable.
❝

When you slow down and really take in everything around you, you realize that there is so much to see and experience in Europe. Everyday life becomes a bit boring afterwards.

❞
Hello! What's your name, where are you from, and where have you travelled to in Europe?

Hi! My name is Craig and I am from the U.S. I have traveled to Spain, France, Italy, Switzerland, England, Scotland, Northern Ireland, Ireland, and technically Wales.

In one sentence, why should someone travel to/through Europe?

Traveling to Europe is a great gateway to get out and explore the world, to know other cultures and people, and be less ethnocentric - if we allow ourselves an open-mind to do so.

What motivated you to take your first trip to Europe?

I think there were several motivating factors that pushed me to make my first trip to Europe.

First, my friends and I are soccer fans and after high school we decided we wanted to take a road trip through Europe and visit some of the larger team stadiums. This was before the internet and it was very difficult to watch soccer matches in the US on a regular basis, so this sounded like an awesome trip.

Second, my family is from Europe and I spent my youth surrounded by immigrants on both my mother's and father's sides. I think this influence played a huge part in fostering the travel bug within me.

What went into planning your first trip to Europe?

I was very lucky to realize that there had to be more to Europe than soccer stadiums and that I wanted to visit my father's home town in Scotland.

Since this was before the days of the Internet (actually it was the days of the early internet and you'd have to wait for your parents to get off the land line phone so you could use the dial-up modem), I spent a lot of the time before our trip in the college library. The best thing that ever happened to me was coming across a copy of Rick Steves' 'Europe Through the Back Door'. This 275-page book opened my mind to the possibility of not 2 1/2 weeks in Europe, but more than 2 1/2 months! I devoured the book in a couple days and returned to my friends excited to tell them we could save up the same amount of money that we planned on bringing for 2 weeks and stretch it over an entire summer using hostels, trains, and backpacks. I really thought they would all be on board.

They laughed. They said that wasn't possible and that Europe was far too expensive to live off $3,500 for 3 months. I told them I'd travel with them for 2 weeks, but after that I was staying on my own for 3 months and I wouldn't be renting a car with them.

I spent the next several months saving money, buying train passes, finding cheap airfare, and trying on backpacks, while splicing together a makeshift guidebook out of print documents or photocopied pages from guidebooks. In the end, I don't think I planned as well as I could have because I wanted to remain spontaneous, but I saw so much more than I would have in the backseat of a rental car going from stadium to stadium for two weeks. And my friends and I had a great time together for those first 2 weeks.

In the end, I don't even think they minded swapping out luggage sets for backpacks and car keys for a train pass.

If you had to plan one final, perfect Eurotrip, what would the itinerary look like?

Wow! There is so much to see and do and so many places to go I'm not even sure I could think of it all.

I started typing up a laundry list of the countries I'd visit and the route in which I'd visit them. Basically everywhere! But when I really think about it and put aside the thought "I want to see EVERYTHING!", I really think I would retrace my steps from my first trip and see how much the places have changed from what I remember. I'd love to bring my wife and with me and show them how my obsession with European travel began. I'd also do much less backtracking than I did on my first trip and be more efficient with my time and travel.

I'd buy a rail pass, fly into Madrid, travel to Barcelona then Nice (this time stopping in Cannes), and on to Turin. From Turin, I'd travel to the Cinque Terre and on to Pisa and Florence. After Florence, I head south to Rome and then I'd add Naples. After Naples and the Amalfi Coast, I'd head further south to Calabria and my grandmother's home town of Amantea. I'd try to find and reconnect with the part of my family we met on my original trip. After Amantea I'd work my way back north to Venice - I've never been to Venice and always regretted not going on my first trip. After Venice, I would stop in Milan before traveling into Switzerland. I'd return to Interlaken, and then spend a bit of time in Gimmelwald. After Switzerland it would be on to Paris, then a ferry from Calais to Dover.

I'd go to London, then head west for a ferry to Ireland, stopping along the way at Salisbury for Stonhenge, and in Swansea. In Ireland, I'd travel to Dublin, Waterford, Cork, Dingle Penninsula, Galway, and Belfast. I'd take the ferry from Belfast to Stranraer. In Scotland, I'd rent a car and circumnavigate the country, includind the Isle of Leiws. I'd spend time with family in Perth and Kelty. I'd be sure to catch a Rangers in Glasgow and Kelty Hearts game in Kelty.

After all this, if I still had time, THEN I'd go see everything else 😀.

What's your advice for first-time Eurotriprs who are just starting to plan a trip?

Don't be afraid to do it your way, even if your friends are against it. I would have never spent that first summer in Europe if I had given in when my friends told me I was crazy to spend a summer in Europe for $3,500.
Don't be scared. It can be scary or overwhelming when you make the decision to plan a trip to Europe. Whether it's on a budget or not, a two week vacation or summer-long adventure, it's simple to do and so many other people like you have done it. There's so much information out there to help you plan the trip of your dreams, no matter what your dreams are. This can be a problem too, because the sheer amount of information out there can paralyze you from making a decision on what to see or do. You'll keep looking to find the best deal, or the perfect hotel, or the perfect restaurant, or perfect itinerary. Just pick a good option within your price points and time constraints and move on. Your trip will be awesome.
Wear a money belt! Passports, cash, credit cards can all be stolen from your pocket, wallet, or purse. If you where and properly use a money belt, the chances of losing all your trip money is much less likely.

What have been some of the biggest challenges you've faced when planning your Eurotrip?

Talking others into traveling on a budget with a single piece of carry-on luggage.
Sorting through the abundance of travel information to 1. find valid and useful advice, and 2. make a decision without being paralyzed with the sheer amount of choices.
Making group decisions when traveling with others - I've had to resort to having travel partners sign 'waivers' stating they have agreed to the itinerary so that when questions or arguments came up on the trip I could refer back to the 'agreement' to resolve any disputes.
Wanting to see / do too much. It can be VERY hard to accept that you will not be able to go everywhere and see everything. This will lead to an overplanned itinerary and a very exhausting trip. Accept that there is too much to see in one trip, and focus on the top 3 things (according to YOUR wish list) in a place. After that, anything you se or do is an extra bonus and you will have a much more relaxed and sane trip.

What did your last trip to Europe cost? How many days were you able to spend in Europe on this budget?

I think it was about $5,500 U.S. for myself, wife and, 2 kids. We spent 15 days with my parents traveling in England and Scotland. We paid approximately $450 each for airfare, spent $125 or less per night at either centrally-located hotels or AirBNBs, rented a van for $900 (split 2 ways between my family and my parents) for the 2 weeks, and walked or took the buses/metro when we needed to. This was in 2016, but having 6 of us on the trip, allowed us to share costs for accommodations and the rental car. Food, sightseeing, and souvenirs were the only other expenses, but all in we were at about $5,500.

In your opinion, is Europe an expensive place to travel? Why / why not?

I think Europe CAN be an expensive place to travel. But I don't think it HAS to be.

Planning can help a lot with keeping costs within a budget - regardless of how low or high that budget is. Staying out of the highly touristy places when eating or shopping will also help you stay within your budget. Remember: locals don't eat and shop around the tourist spots because they know there are better more affordable options a block or two in any other direction.

As far as airfare goes, I've been lucky never to have had to spend more than $750 on a round trip ticket from the my home in the US to anywhere I've been in Europe.

There are so many awesome options for accommodations that if you spend more than $150 per night you either booked too late, or are unwilling to explore non-Americanized hotel options. I'm sure taxis can get expensive if you are traveling solo, but there are always public transportation options in cities and from airports that are a fraction of most taxi rides. Many cities offer affordable sightseeing passes or discount cards that allow you to get into sights free or at a reduced rates.

If you want Europe to be expensive it WILL be. But, like anywhere else, if you choose to spend less you can.

What are the 3 most important things to consider when packing for a trip to Europe?

Pack light. Pack light. Pack light.

In all seriousness, you will probably be doing a lot more walking to and from your accommodations from the train or metro stations. Having to carry around large or numerous suitcases is not fun. As an American, in my experience, there are more stairs and less elevators in Europe than we are used to. Carrying heavy luggage up tight staircases is tiring.

Unless you are renting a car or strictly flying from place to place, you are going to have to carry your luggage EVERYWHERE with you once you leave your hotel. Also, assuming you are visiting multiple cities on your trip, you are going to be packing and unpacking a lot. Do yourself a favor and keep the luggage to a minimum.

Another piece of advice: no matter what time of year, if you are going to the UK (England, Scotland, Wales) or Ireland bring a rain jacket and umbrella.

And finally, wear a money belt. Don't let your trip be ruined because you didn't. Pickpockets are everywhere tourists are, and are very good at what they do.

How would you pack differently for a 1-week trip to Europe versus a 1-month trip?

I wouldn't. I pack the same if it's a 3 day trip or a 3 month trip. I drank the 'Pack Light' Kool-Aid early on and have never looked back. If there was one piece of advice I learned from Rick Steves before my first trip, it was: Pack light!

So, I carry 2 pairs of pants/shorts, 2 short sleeve shirts, 1 long sleeve shirt/ sweater, rain jacket, umbrella, book, underwear, socks, a t-shirt, walking shoes, phone, battery backup, minimal toiletries, backpack, day pack, paperwork (if any), money belt, cash, credit cards, passport. If things get dirty I can go to a laundromat. If I can't go to a laundromat and I really need something or if something runs out, I go to a store and replace it. I don't think I've ever needed to replace clothes. This basically does the trick no matter how long I travel.

What advice would you give first-time Eurotriprs nervous about using the trains in Europe?

Train travel in Europe is awesome and is my favorite way of getting from city to city. It's really simple and convenient.

Ask for help if you need to, pay attention to the time tables, and spend your time while waiting for your train learning the how the train station is laid out. What I mean by this is, assuming you have enough information to get to your platform, sit down and look around the train station while you're waiting for the train. Most stations in Europe are laid out the same so by stopping for a few minutes and taking in your surroundings you'll learn a lot quickly.

It really isn't that difficult to get around the train stations and it's probably easier than ever to get a primer even before you go to Europe. Head over to YouTube, and look for a video of someone explaining the train system and stations for travelers. This way it's not as much of a shock when you arrive the first time. But in the end, I've always found station personnel to be very helpful and friendly if you approach them in the same way.

Oh and if you have a train pass (ie Eurail), don't forget to ask if you need a seat reservation for your ride and if you need to have someone validate your train pass or ticket BEFORE the train leaves the station. If you don't have a validated train pass, the conductor can fine you or kick you off at the next stop. Not fun.

What is your favorite destination in Europe? Why?

I think my favorite destination in Europe is one of two places. These are probably over-touristed because of guidebooks, but I still really loved them when I visited. I have other places I really like, but I think these are so entrenched because of my first trips to Europe.

Gimmelwald, Switzerland - it's such a cute tiny village up in the Alps. Even with my fear of heights and its dizzying views straight down, it's a wonderful Alpine base if you want pure relaxation and mountains.
Cinque Terre, Italy - Five tiny towns clinging to the mountainside along the Mediterranean coast. These towns are definitely over-touristed thanks to Rick Steves and other guidebooks, but well deserving of their popularity. The people were friendly, the food is delicious, and the views are amazing. Also, I still have a soft spot for the long extinct Mama Rosa's hostel in Riomaggiore (RIP).

What was your first trip to Europe like?

For better or worse, it completely changed the trajectory of my life. I fell in love with European travel and have been obsessed with the desire to return as often as I could - which, sadly hasn't been often enough.

My first trip was probably the best, but worst executed trip I've been on. I spent almost 90 days backpacking through Europe on a budget of $3,500 (including airfare and train travel). I flew into Madrid, travelled via train for a week to Barcelona, Nice, and finally into Rome to meet 3 friends whom I'd spend the next two weeks with. We traveled from Rome to Cinque Terre to Milan to Turin to Interlakken to Parisand then to London. From London we headed north into Scotland and drove clockwise around the country, then back to London where my friends flew home.

A couple days later, my cousin flew into London and I repeated the same itinerary with him. We also, went further south into the Calabria region of Italy where we met family of our grandmother who put us up for a few days. It was a great, unexpected situation and a once-in-a-lifetime memory.

After my friends and cousin left, I spent most of the remainder of the summer in Ireland and then back to Scotland bouncing from family member to family member. It was an awesome trip and we had some of our best memories. But there were some hard times too. While we were in Paris, we had a language issue and misunderstood the price for the Chunnel fare to London. This ended up being too much for my friend, and even though I sorted it out, by the time I left the ticket booth, my friend had stormed of and bought the next plane ticket home - half-way through the trip!

Repeating the same basic trip twice in that first month meant that I missed out on a lot of additional places and experiences. I had a great time with both my friends and cousin, but wish they'd all come over at the same time.

This trip showed me how easy and freeing traveling on a budget in Europe could be. Before I left home, I had no idea which city I'd be flying into. I had bought a 'stand-by only' plane ticket from a now defunct company called AirHitch (basically you pay $350 and were promised an available seat on a plane heading to Western Europe). A phone call the night before gave me a list of available flights and the probability each flight had an open seat. I needed to be at the airport with my handwritten, photocopied blue AirHitch 'voucher' and hope I picked a flight with an open seat. Exciting!

Arriving in Madrid my first day, armed with a makeshift guidebook I taped together from separate parts of various guides, a giant road atlas, a 1-month Eurail train pass, my backpack, and a money belt, I realized I was completely free for the entire summer. We didn't have cell phones or even accessible Internet then, but I was confident I'd meet up with my friends in Rome and we'd have a grand adventure. And we did.

That trip was epic and I have been chasing that feeling ever since. Now I want to introduce that feeling to my wife and kids.

I hope building Eurotripr.com allows me to help others find that same feeling.

Can you tell us about a funny story/situation you've been in when traveling in Europe?

In only three trips, there are so many 😀.

When I took my girlfriend (now wife) on our first trip to Europe, we spent a few nights in Riomaggiore in Italy's Cinque Terre. When we stepped off the train, we were immediately stopped by a young, pregnant woman who offered us a room at her apartment. My wife was startled but I assured her this was how things were done here (almost 15 years prior this is EXACTLY how and where Mama Rosa had accosted me and my friends to stay at her hostel - and for all its 'character' it had been my favorite hostel experience). The woman brought us back to a clean, small apartment and showed us our tiny room. There were a couple closed doors of of the kitchen and we assumed these were private as it was her apartment. We agreed to a price, paid for 2 nights, dropped our bags, and went to walk around the town.

When we arrived back in the late afternoon, there were two other backpackers in the apartment. It turns out we'd actually met and hung out with them in London a few days prior. Apparently the woman had sold them the OTHER room in the apartment for a couple nights. Surprise! This isn't even the funny bit.

The next day we woke up and we in the kitchen when a young good looking man walks out of the other shut door (it was a closet). Needless to say, this freaked my wife out a bit, and even I was taken back a bit. He explained to us in Italian and broken English that this was his apartment and he was just sleeping in the closet while we stayed there. Um, ok. He finished explaining, washed up, and left the apartment like this was the most normal thing ever. That night, still talking about how crazy this encounter was, my girlfriend and I sat down at a local restaurant and who comes over to wait on us? The guy from the closet! In broken English and Italian we laugh about the situation, and the waiter brings us a free bottle of wine for our 'troubles'. It was a super weird experience, but a wholesome, funny weird and a great story from another great trip.

How do you find social connections while traveling around Europe?

If I'm traveling solo and really looking to make a connection with others, I find staying at hostels or small family owned hotels or bed and breakfasts provides a great opportunity to meet other travelers. These types of accommodations make it very easy to start conversations with other guests or owners. If I am trying to meet locals, I will usually start a conversation with someone by asking for directions or simply acknowledging how great their town or city is or politely asking them to take a photo of me. So many people are proud of where they live, and if you show a little bit of interest, you'd be surprised how much a perfect stranger will want to tell you about their hometown. If I'm with a group, there's usually one of us that is more social than the rest and that makes it very simple tomeet others.

Because Iam lucky enough to have family on both my mother's and father's sides from different countries in Europe, I've been able to visit these (sometimes very distant) relations when I've traveled. Having relations in Europe opens up a whole new dynamic of making connections while traveling. Even before social media and the Internet, it was very easy to show up in a town I had family in and knock on a door and be greeted by long-lost family members inviting me for dinner and a walk through their town. If you have family in Europe, even if you've never met them, don't be afraid to look them up and let them know you will be nearby or in town. They might just invite you to stay with them for a few days and show you an intimate view of their home town.

What are some of your favorite foods in Europe, and in what countries are they found?

Favorite foods? I was brought up on meat pies and Italian food, so I guess I'd say meat pies throughout the UK, specifically minced pies in Scotland with HP sauce (yum!) and anything in Southern Italy. Food in Italy is very regional, so what most people consider Italian in the US (pasta, red sauce, meatballs) is not typical of all Italian cuisine. I didn't realize this on my first trip and was surprised how different and more varied the food was (especially in Northern Italy) from my immigrant grandmother's. Favorites in Italy? Seafood, especially Mussels and Calamari (squid). In other places? Chocolate croissants (pane au chocolat) in Paris, serrano ham sandwiches (Bocadillo de jamón) in Madrid, and homemade yogurt in Gimmelwald.

If you've travelled through Europe more than once, what has changed in how you plan your trip now from your earlier trips?

Planning and gadgets.

It is amazing to me how few people use guidebooks now. With all the information readily at our fingertips both at home and while traveling, needing even a single guidebook seems silly now. I remember on my first 2 trips I would buy multiple guidebooks, rip out the sections I needed and tape together a custom guidebook for my trip. No longer needed. With my iphone or ipad, I can have as many formal or self made 'guidebooks' as I want or just wait until I get to a place to look up information of that place.

I also don't need an additional camera, music device, or map - it's all in my pocket.

Getting lost in a city or not knowing a train or metro schedule is no longer a problem with Google maps and train apps. Even hiring a guide or taking an in-person walking tour can be eliminated if you download a good audio tour.

I'm not sure if all this convenience is 100% a good thing - I mean sometimes getting lost in a city brings some of the best memories - but having all these extra conveniences allows you to enjoy being in the place more than if you had to worry about getting around the place too. Also having a mobile phone when traveling with others is wonderful. Now instead of hoping you have the correct time and directions to meetup with someone, you just need to call or text them to make sure you both arrive as planned.

What does travel give you that everyday life doesn't?

European travel gives me a sense of adventure and freedom that is missing in the typical day-to-day. Especially if you are brave enough to travel longer than our typical American two-week vacation and really allow yourself to get out of the tourist lane. When you slow down and really take in the people, history, food, sights, and everything around you, you realize that there is so much to see and experience. Everyday life becomes a bit boring afterwards.

When you come home from a trip to Europe, has it changed you? How?

I think so. I think I bring home with me more appreciation for the history and culture of the places I've visited. I immediately want to start planning my next trip. I like to think each trip taken makes me a better citizen of the world and a more open-minded individual.

Are you a digital nomad / do you work while travelling through Europe? If so, how do you earn money while traveling?

I am not a digital nomad. But this would be awesome. It would be great to be able to work from anywhere with my family and spend a few months at a time living in or traveling around Europe.

What do you wish you knew before your first trip, that you know now?

I wish I'd known how much I'd regret coming home after only about 90 days of travel. There was so much more to see and in retrospect, I wish I had found a way to finance a longer trip. I also wish I'd planned each destination a bit more thoroughly. I was so close to so many things now on my bucket list that we just didn't know about or didn't plan into that first trip. I also, wish I'd had fought harder to talk my friends into traveling with me for the entire summer. They really missed out on a lot, and I missed out on having them around to make and share more travel memories. Now when I talk about my summer in Europe, they only understand it as a typical 2-week vacation, not as the longer-term travel adventure it was for me.

What is your best tip to someone wanting to travel to Europe for the first time?

Do it now. Make the time and save the money to go. You can do it. Europe is not a scary or dangerous place if you practice common sense. Don't let anyone talk you out of going.

And wear a money belt! I can't stress how important this is if you are going to be carrying your cash, credit cards, and passport on you at anytime and in touristy areas. I have literally given this advice to people, bought them a money belt, and explained to them what pickpocket scams to watch out for, only to be frantically called before they arrived at their hotel to advise me they were pickpocketed on the subway and lost 50% of their entire trips funds 😔. It's not lame, it's not uncomfortable. A money belt is a safe deposit box for the most important items you take with you: cash, credit cards, passport. You can lose EVERYTHING else and still enjoy your trip (my friends did on our first trip - bags, clothes, everything except their money belts), but if you lose your money or passport it will be a nightmare.

Where can we stay up-to-date with and learn more about you and your travels? What can we expect from following you?
---