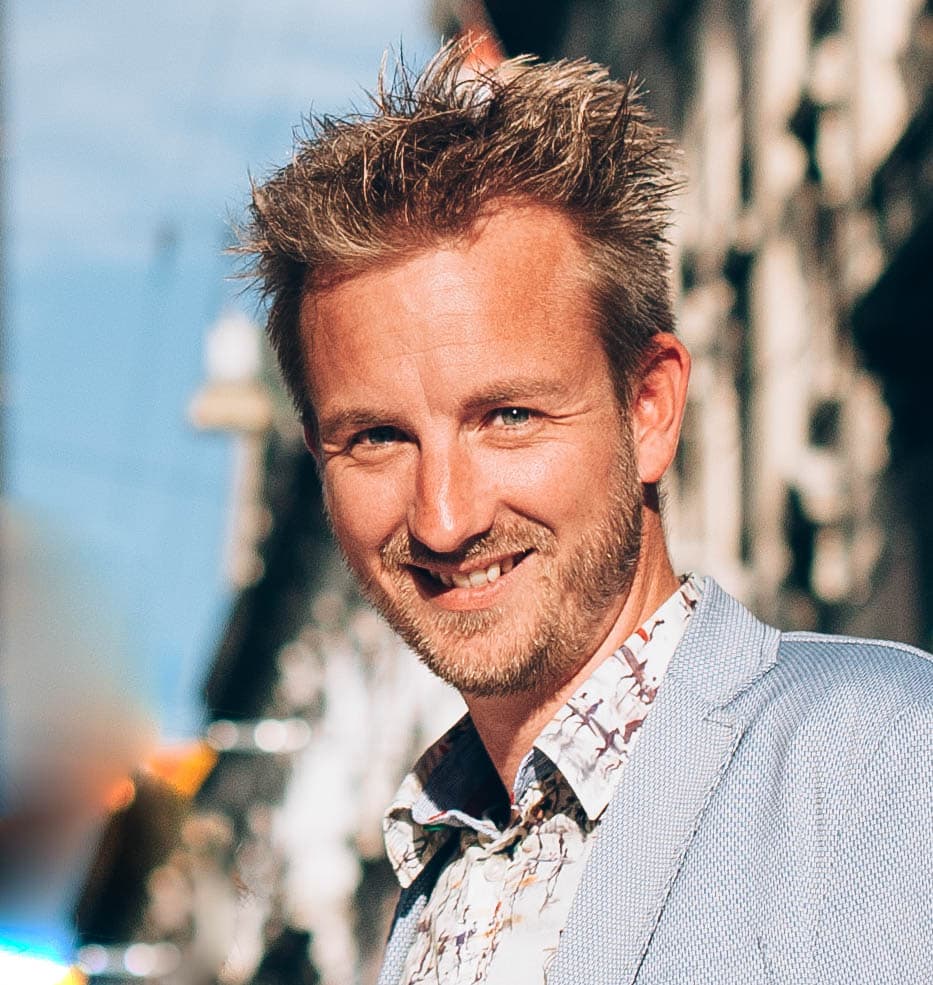 Melvin Boecher
Melvin Boecher loves to travel, to discover the world, and still be informed like an insider. While traveling in Europe, Melvin would meet locals and fellow travelers who would tip him off to little-known destinations, restaurants, and accommodations. Great travel tips from other travelers and helpful locals always aded something special to his trips. The more he traveled the more people he'd meet and the more hidden gems he'd learn about.
Melvin knew he couldn't keep all these secrets to himself. He wanted to share his knowledge with other travelers. That was the inspiration fot Travel Dudes. In 2004, Melvin founded Travel Dudes, a community of more than 250,000 global travelers, as a way to share his first-hand experience.
❝

Travel provides you unexpected surprises. This could be someone you meet, food you've never eaten before, stunning landscapes or the adrenaline activity you wouldn't have gotten if you have stayed at home.

❞
Hello! What's your name, where are you from, and where have you travelled to in Europe?

I'm Melvin Boecher and I live close to Cologne in Germany.

I've traveled through most countries in Europe: Austria, Belgium, Bulgaria, Croatia, Czech Republic, Denmark, Finland, France, Germany, Greece, Hungary, Ireland, Italy, Luxembourg, Malta, Netherlands, Norway, Poland, Romania, San Marino, Serbia, Slovenia, Spain, Switzerland, United Kingdom, and Vatican City.

In one sentence, why should someone travel to/through Europe?

You can experience so many different cultures with different landscapes and unique cuisines in such a small region.

What motivated you to take your first trip to Europe?

Where else can you drive for 1-2 hours and experience a different "world". Luckily most borders are gone, so when driving you might experience that the style of houses and their gardens changed. That could be because you crossed a border. You have that when driving on the country roads. But even if you stay in a country without crossing a border, you will see lots of changes when driving 1-2 hours.

What went into planning your first trip to Europe?

For most regions you won't need to plan much, when traveling through Europe. One of the benefits of Europe is, that it has an excellent infrastructure. There are thousands of accommodations and you should always be able to find a place to stay, even spontaneously.

Even in the high season (mid-May trhough August) it's not a problem to find somewhere to stay overnight, unless you are on an island or looking for a specific standard. Then you should try to plan 1-3 days ahead.

What would be your ideal month in Europe?

It depends on the interest and what you are looking for. For example, December till March are excellent months to go snowboarding in the Alps. Southern Europe (Portugal, Greece, Italy, Spain...) are excellent in spring and autumn. Central and Northern Europe (Germany, France, UK, Scandinavia...) are great in summer. But then there are also always exceptions, like Christmas markets in Germany or the Northern Lights and winter season in Scandinavia.

So I would most probably pick March. This gives me the opportunity to go snowboading in the Alps. The ski infrastructure is amazing. There are so many top quality lifts and the pistes are in great conditions. Then you have a huge variety of different accommodations and the food is really good, too. It's so tough to choose between Tirol, the French or the Italian Alps. And you also have the Dolomites, which have a specatculiar landscape.

After 7-10 days of snowboarding I would pick a warmer destination. Maybe I would head to Puglia or Sicily in Italy, Malta or Portugal. The Canary Islands and Madeira are great holiday destinations all year round. That's where you can enjoy already a bit of summer early in the year. Each of those places are full of culture and also great food.

If you had to plan one final, perfect Eurotrip, what would the itinerary look like?

A perfect trip to Europe would take quite a while, as I would combine stunning cities (Berlin, Lisbon, Paris, Barcelona, Madrid, London, Amsterdam, Budapest, Rome, Prague...) with visiting the counryside (Rhine valley, Bretagne, Emilia-Romagna, Algarve & Central Portugal, Scotland & Irish coast...) and adding also smaller towns (Bologna, Leipzig, Dresden, Ljubljana, Graz, Innsbruck, Girona, Bari, Valencia, Malaga, Bilbao, Edinburgh, Belfast, Antwerp...).

So the best would be to focus on one region and then make that combination for my itinerary which then includes a large capital city, bigger towns and the countryside.

What's your advice for first-time Eurotriprs who are just starting to plan a trip?

Less is more, if you don't have enough time. Do visit 1-3 different countries, visit a big city, but also spend time on the countryside.

Most visitors head to Rome, Berlin, Amsterdam & London and then fly back again. Great cities, but they completely missed out, as they haven't seen anything from the countryside.

Get a rental car or travel by train between destinations and make sure to stop in between.

What have been some of the biggest challenges you've faced when planning your Eurotrip?

I haven't really encountered any real challenges. Most people speak English, especially in the travel industry. So when booking an accommodation, you should be fine with speaking English.

You might run into issues if you try to travel by train and want to book everything in one ticket, if it includes different borders. For example it gets difficult if you try to book a train from Spain to Germany with breaks in between in one ticket. Forget it! It might be worth to check out Interrail instead, as you can choose most trains on the go. Or you book the train tickets in separate steps.

In your opinion, is Europe an expensive place to travel? Why / why not?

You can explore Europe with a small or large budget. It really depends on the way you travel. There are many hostels, apartments or budget hotels to choose from in the cities and also in the countryside. And obviously you can also choose some extremely special and unique places to stay which will cost more. The same goes for food. It's up to you if you want to enjoy some street / imbiss (snack) food, eat at a local restaurant (lower cost) or try one of the many high class restaurants (higher cost).

What are the 3 most important things to consider when packing for a trip to Europe?

Make sure to have the proper adapter with you, so that you can use the different plugs in the different countries to charge your phone and other electronics.
Pack clothes for different weather, as the weather can be quite different without traveling far.
Bring an open mind, so that you can try all the different foods and bits of local cultures.

How would you pack differently for a 1-week trip to Europe versus a 1-month trip?

If I were traveling for only one week, I would most probably stick to one region. So the weather should stay similar during my trip. Then it depends if I would explore a Northern European destination like Ireland, Scotland, Norway or Finland, where I would need to pack a few more warmer clothes and something if it should rain. If I were to head further South, then I would just pack 1-2 warmer pullovers for the evenings when it gets cool.

And if would travel for a complete month, I wouldn't pack any different, but would make sure to bring clothes for all weather conditions. That's because I wouldn't like to stick to one region, if I would have one month. I might visit the Scottish Highlands and then go skydiving in Costa Brava.

Maybe I would even include to go snowboarding and then heading to the Mediterreanean sea for sun bathing afterwards. If I were to explore the North of Europe and the South on the same trip, then I would pack warmer clothes for the first half, but also the flip flops for the latter half.

If you really need something, because you forgot it, you can still buy it at a local store.

What advice would you give first-time Eurotriprs nervous about renting and driving a car in Europe?

Don't start in the UK and then drive to France. Swapping from driving on the left and then to the right or vice versa, might not be too smart. Maybe first stick to one region where they drive on the same side the whole time.

Also, you have to know that you might have to pay tolls when using the Freeway (highway) in some countries. Usually toll roads are privately built, so that you can choose alternative routes as well, which will then take a bit longer, but save you money. Some countries like Austria will force you to use the freeway and pay the vignette (toll/ticket), which you have to buy upfront. You can get them at petrol (gas) stations and I guess online as well. Best is to do a quick search (freeway toll [destination]) to find the up to date conditions. Or you can get in touch with your local automobile club, who should also have that info.

Fines can also cost quite a bit. So stick to the speed limits!

Parking in the cities can get expensive, but usually each city also offers budget friendly options. Most cities provide free or cheaper parking outside of the city center. You can then choose the public transport to get into town. Or even better, rent a bicycle. A bicycle is a great option to explore a new place.

Europe is also a very popular destination for motorcycle tours. Imagine driving through the Alps, up the mountain passes and then stopping in small villages for coffee breaks. Or you decide to drive along the West Coast of Portugal or do a road trip through the Scottish Highlands. It's even possilbe to get the motorbike on the train for longer distances to then continue your trip in a different region of Europe. Here is a checklist for renting a motorbike, to make sure that you don't forget anything.

What is your favorite destination in Europe? Why?

There are so many amazing and stunning destinations in Europe. I wouldn't want to pick out one, as it would be so unfair for all the others.

Just to give a few examples, take a trip to the stunning Irish coast, which is well known not just for the Giants Causeway. Then you have cities like Barcelona with its crazy architecture from Gaudi and delicious tapas.

An island hopping trip in Greece is another fun trip. There are seven clusters of islands, so that the distances between the islands isn't too long.

One of my favorite cities in Europe is Ljubljana. It's a relatively small city, compared to other capitals, but you get the full flair of a big city. And you keep the coziness of a smaller one. There are plenty of cafes and restaurants with great, local food. I think it was the first city where you were able to Stand-Up-Paddle through the city. Or you can head into the nearby countryside to travel back in time, by visiting the herdsmen at Velika Planina.

What resources (books, apps, devices, etc) do you use while planning your Eurotrip?

We provide a lot of travel tips on TravelDudes.com. Obviously that's the first address I go to. Apart from that I use Google Maps a lot . Then I use Waze as a navigation system when driving. For accommodations I try to book direct with the accommodation itself, as it's usually cheaper and supports them more than booking sites. But Booking.com is also a good website to find a place to stay.

Can you tell us about a funny story/situation you've been in when traveling in Europe?

We've been hiking the Path of Gods in Italy (Via Degli Dei), which is the connection between Bologna and Florence. This hike is spectaculiar, as you'll hike through the hills, on the ancient Roman road and pass amazing sights. The best is, that you can try all the local food specialities and I love the fresh made pasta!

We came to a monastery where they produce some homemade spirits. They say it has healing powers. You have to try it of course and Dave did as well. After a long hike he was so thirsty, that he was a bit too quick and the "Holy Shot" went straight up his nose. It had a cleaning affect and you can watch it in the video via the link above.

How do you find social connections while traveling around Europe?

Just head out, be curious and start a conversation. You'll be amazed how friendly and open everyone is. Good places are obviously the cafes, bars and restaurants, but also pretty much everywhere else.

I recommend to stay in B&Bs or hostels, as it's really easy to meet other like minded travelers there.

If you've travelled through Europe more than once, what has changed in how you plan your trip now from your earlier trips?

I try to plan as little as needed. You have the best experiences if you can travel spontaneously. With your mobile phone and a sim card, it's possible to book tickets for sights last minute or for the next day. That leaves you the freedom to change plans any time, as it could be that a local or other traveler provides you with a good travel tip.

What does travel give you that everyday life doesn't?

Travel provides you unexpected surprises. This could be someone you meet, food you've never eaten before, stunning landscapes or the adrenaline activity you wouldn't have gotten if you have stayed at home.

When you come home from a trip to Europe, has it changed you? How?

Each trip to Europe should change you a bit. There are so many different cultures and Europe is full of a long and interesting history. That's why I would definitely recommend to visit more than just one destination. It's easy to mix fun activities with good food in nice accommodations and to learn a bit about a place's history. It's very easy to get around with English and you can always learn a few European words and phrases.

What is your best tip for someone wanting to pack in their 9-5 and travel to Europe long-term?

Don't talk about it, but do it. I've met so many who admired me for taking half a year off to travel Down Under. Usually I see that people aspire to do this, but then find excuses not to do it themselves. And there are soooo many "good" excuses, but in the end it's a question of setting the right priorities.

Traveling long term is a complete different experience and Europe is a great location to do that. To really experience Europe, you will need a lot of time. Make sure to stay long enough in each destination, so that you can dive in into the culture and its customs. So plan to travel for 6-12 months and stay in one destination for 2-3 weeks or - even better - longer.

What do you wish you knew before your first trip, that you know now?

Usually you have far too many concerns before a trip. What if...? And then you land and realize that there is no reason for those thoughts. Usually you can handle and can take care of everything when you are in the destination. Let's assume you get a cold. Well, guess what? There are pharmacies in every town.

I've been on plenty of journeys through Europe where I haven't even booked an accommodation for the next night. And it's no problem to find something. On islands it might get a bit harder, depending on the travel season. And if you prefer a specific standard or experience, then it's also good to book those in advance.

But overall it's very simple and safe to travel in Europe.

Where can we stay up-to-date with and learn more about you and your travels? What can we expect from following you?

Travel Dudes provides valuable tips, inspiration and advice from travelers based on their first-hand experience. Read articles, destination guides, and watch videos to help plan your next trip. We are a community of travelers whose aim is to assist fellow travelers on their adventures around the world and help enhance their travel experience. For Travelers, By Travelers!
---