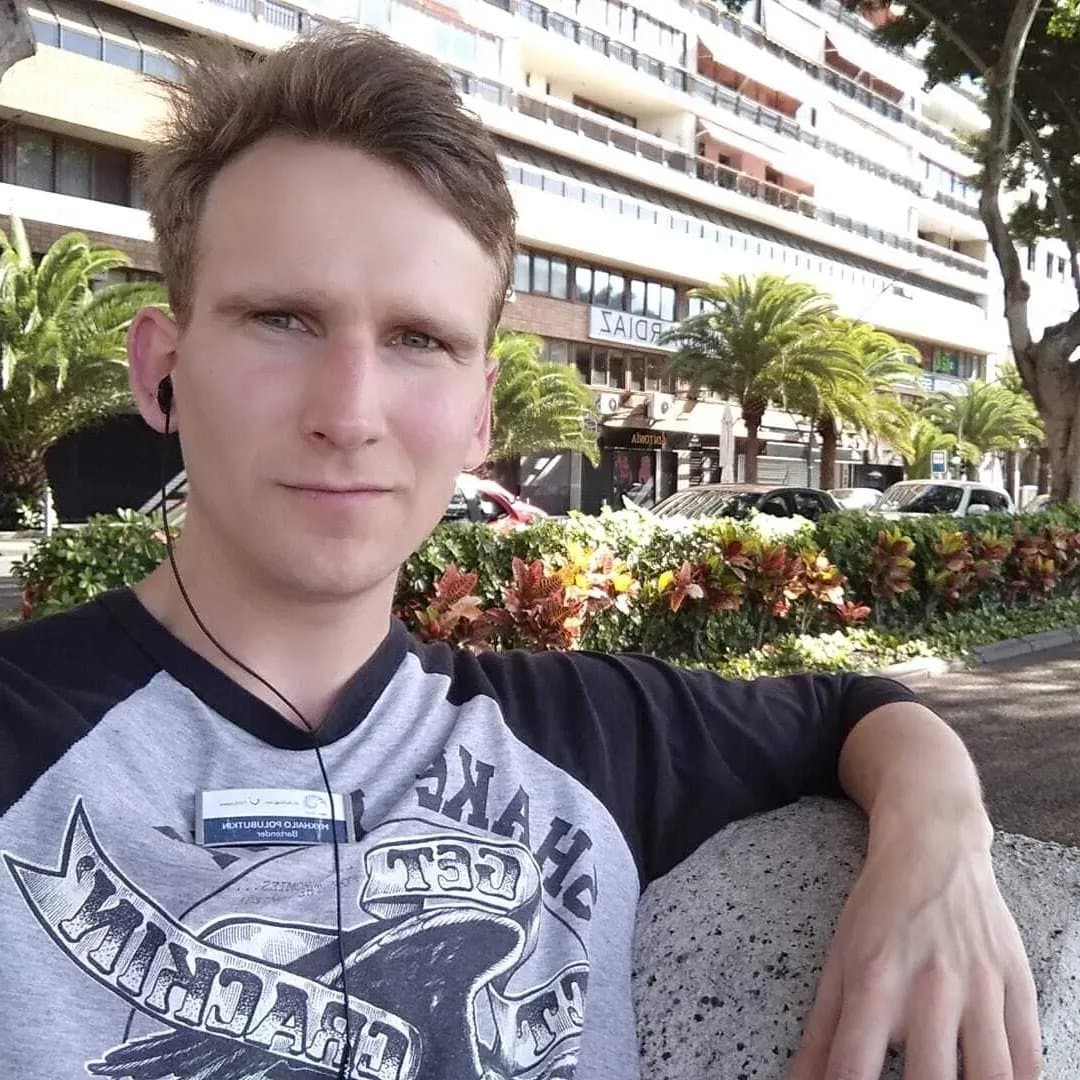 Michael
Michael, a traveler from Ukraine, tells us about his amazing trips across Europe. He first started exploring as a bartender on a cruise ship, and his unplanned trips took him from Russia to Germany. He talks about the many different cultures and beautiful places he visited in Europe. Michael tells other travelers to be spontaneous, and believes that if you research too much, you might miss out on the excitement of discovering new things.
❝

Europe is very big continent and is full of different rich and interesting cultures. Reading too much about these places in advance can destroy the surprise and magic of a place.

❞
Hello! What's your name, where are you from, and where have you travelled to in Europe?

Hello! My name is Michael and I'm from Ukraine. During my first job as a bartender on a cruise ship for 3.5 months I visited Portugal, France, Italy, Spain and the Canary Islands, which are part of Spain, very close to Africa. After that, I took a trip on my own through Russia, Finland, Sweden, Denmark, and Germany.

In one sentence, why should someone travel to/through Europe?

I travel to see new and interesting things and meet great people. I've seen exciting fjords near Norman trading ways, and hot beaches next to monuments built by the Roman Empire. If you don't want to see and experience new and exciting things, why bother traveling anywhere?

What motivated you to take your first trip to Europe?

I was restless and wanted to see the world and meet new people. I had dreams of traveling to new places. Working on a cruise ship in Europewas a great way to achieve all of this and earn money as a student.

When did you first travel to Europe?

What went into planning your first trip to Europe?

The interesting thing is that I really didn't plan anything for my first trip, except for the plane tickets. I was waiting for best time to go to St. Petersburg, Russia and realised the time is runnig out, so I just booked a tickets for the next day and went!

Just sitting in taxi on the way from the airport I booked a room in a hotel on the main street per internet. I will never forget, that I arrived in the completely clear dry city and after 6 hours of sleep I woke up in the middle of winter tail! The whole city was codered by snow! It's a very nice surprise. 😃

If you had to plan one final, perfect Eurotrip, what would the itinerary look like?

Wow. It would be a long trip!

On my previous trips, I mostly visited places near the coast. I mean it's great to see how Lisbon looks from a ship - its a white marble wall of the nicest looking buildings! The beaches of Spain anf Italy are excellent. But now I'd want to travel everywhere else.

I want to visit the histrical monuments and cultural masterpieces of the middle ages in Rome and other cities. I'd spend time at ski resorts in Switzerland and Austria. I'd admire the architecture of Vienna, which still looks like it did before WW1. I'd include the fjords of Norway and gingerbread houses of Denmark. I want to sample food from everywhere! Even this isn't a full list - there's so much more I'd want to see and do. 😃

What's your advice for first-time Eurotriprs who are just starting to plan a trip?

Guys and girls! Europe is very big continent and is full of different rich and interesting cultures. There is so much to experience and see. You may be better off choosing a single country to focus on for your first trip.

Regardless of where you choose to visit, I'd actually recommend to learn about your destination's most visited places when you arrive there, not before. Reading too much about these places in advance can destroy the surprise and magic of a place. It's true!

When I went to Spain, I knew all about its popular beaches, but nothing about the bordellos in Barcelona or the architecture of its downtown gothic district. Both were a very big and pleasant bonus to me.

When I was in Sardinia, I didn't know about the black carbonite from its volcano and how it was like being rained on by black sand. It was a big surprise, and it wouldn't have been if I'd ruined it with too much research before going.

If possible, don't tavel alone. Have somebody to share your experiences and emotions with. I traveled by myself and regret not having someone to share that with. 😞

If you are from the American continent, the most difficult part of your trip would be a crossing the Atlantic ocean. The cheapest ticket on the booking platforms of flights to UK was $100 CA. Then a train form London through the la Manche for 20 euros to Paris and here you are. Sounds like a great adventure. 😉

What have been some of the biggest challenges you've faced when planning your Eurotrip?

Maybe time constraints. I wish I had more time to see the countries I've visited.

Also, people are not always nice or polite. One day I stayed at a hostel where one guy was farting and burping in front of everybody and didn't understand that he was being very rude. Getting into trouble in a foreign country was something I was afraid of. So, instead of confronting rude or disorderly people, I just tried to keep my distance from them.

In your opinion, is Europe an expensive place to travel? Why / why not?

It depends on your desires. In almost three weeks I visited many cities and spent allmost $1,400. Half of that was alcohol for parties and souvenirs. So, I could really have gotten by on a lot less if I reduced my drinking and shopping budget.

The cheapest tickets between two capitals I've bought is $20. I stayed in one Spanish hotel on Palma de Mallorca with a swimming pool on its roof in a two-people-room for €50 per night/ 30 meters from the seaside and I think that is very cheap. But if you want to rent a halicopter, get around the cities in a taxi, or sleep in private rooms at expensive hotels, prepare your wallet.

What are the 3 most important things to consider when packing for a trip to Europe?

Always pack the maximum allowed carry-on sized luggage, but never take a lot of "stuff" with you. You need less than you think you do. I had my best trip with only a single backpack! The woman at the security gate was really surprised I was able to pack everything I needed into one backpack, but I really didn't need anything more than that: Passport, money, phone.

Traveling to Europe you will also need your bank card: VISA and/or MascterCard. And even though paying with cash is not common in Europe, it's still nice to have at least 100 euros just for case.

Also, your phone, and a data plan because the Internet will help every day to finde a roads, book tickets or hotels, and to translate signs.

How would you pack differently for a 1-week trip to Europe versus a 1-month trip?

I would pack exactly the same. I don't want to be bothered by large suitcases or lots of luggage. The only issue would probably be personal hygienic stuff. For a week-long trip, I wouldn't take a razor or nail clippers, but for a month-long one I would make sure I had these items.

What is your favorite destination in Europe? Why?

Spain. Spanish people are freaking awesome! Many have problems with English, but in the touristy places you will never have difficulties communicating with people.

What is your least favorite European city? Why?

My least favorite city is Berlin, Germany. The people were not friendly, and really soured my experience when I visited.

What was your first trip to Europe like?

As a child I never imagined I'd visit places with such nice names like Santa Cruz or Las Palmas, but when I finally did it was amazing! When I was a child and saw these place names on the world map, I was almost sure, I will never visit these places. It's so far. it's so exotic. Hard to explain, my vocabulary is not as big as my spectrum of emotions. But when I finally was able to travel to these places, I felt like I had won the game of life!

Can you tell us about a funny story/situation you've been in when traveling in Europe?

Oh there are so many things I couldn't believe at the time, and things I would tell my friends about every day in every city that made us laugh.

Russians are known for their drinking, and when I was in Saint Petersburg, there was an old drunk guy on the street that stopped me to tell me a jok which I don't remember anymore, but the fact that this old Russian just stopped me in the middle of the road in St. Petersburg was something I never thought I would experience.

When I was in Helsinki (Finland), a woman bartender tried to take me home with her. She was literally sexually harassing me! Just Stop! Not funny, but a very interesting experience.

Do you use local tour guides when in Europe? If so, what advice would you give first-time travellers on using / finding good local tours?

No, I have never used a tour guide when visiting places in Europe. My trips have mostly been unplanned and improvised, and I have enjoyed traveling like this so far.

How do you find social connections while traveling around Europe?

You could connect with people via Facebook that might be in the city you are visiting.

Otherwise, you can just meet people in the halls or common areas of hostels or at bars by just introducing yourself and talking with them.

If you've travelled through Europe more than once, what has changed in how you plan your trip now from your earlier trips?

I don't think I would change anything with the way I plan (or don't plan) my trips. I love the places I have visited and would like to go back to them again. In the future I would like to visit more places within the continent, far from beaches. I really want to dive deeper into Europe's interior.

What does travel give you that everyday life doesn't?

Emotions and the feeling that I'm alive and can do anything.

When you come home from a trip to Europe, has it changed you? How?

No. All of us need some place to relax and to think. After all my trips and the places I've visited, my home is that place and I love it. 😍

What advice would you give Eurotripprs who may be nervous about travelling to Europe?

Just relax and do it. Do what you like to do. Go to some bar you've never visited. Talk to people you don't know.

If you don't like traveling, maybe you are just a homebody. That's ok - it's still nice to try and enjoy. Find what makes you happy. But if you want to do it and you find that you like it, then do it!

Meet new people. Eat strange food. Try something new!

What do you wish you knew before your first trip, that you know now?

Traveling is not expensive, so don't be afraid to do it!
---