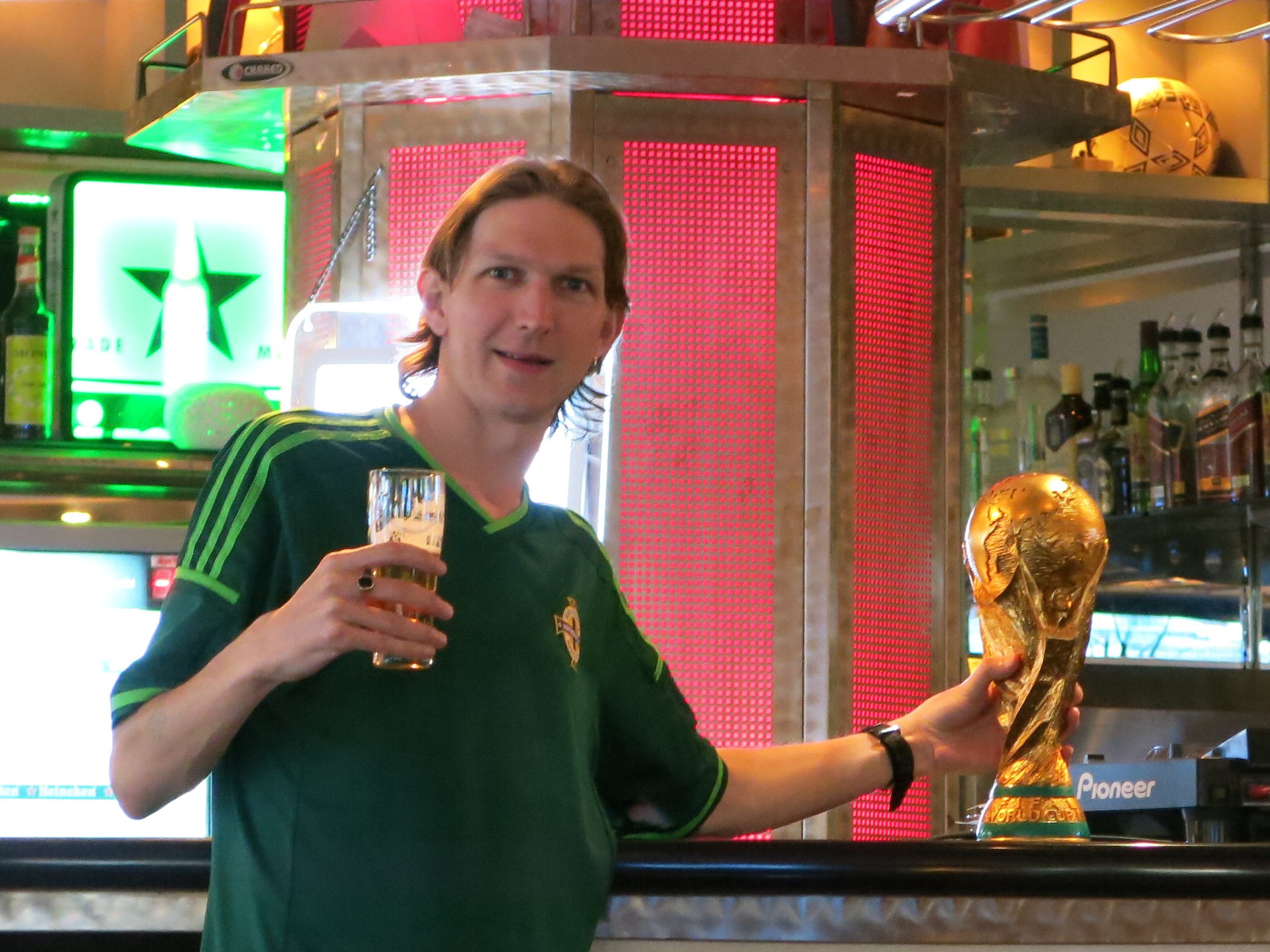 Jonny Blair
Jonny Blair is a Northern Irish travel writer based in Poland. Jonny was born in Newtownards in 1980 and grew up in Bangor in Northern Ireland. Since leaving his hometown in 2003, Jonny has travelled far and wide, detailing his journeys on his one man travel blog, Don't Stop Living. Jonny has visited over 180 countries across all seven continents including Iran, Ethiopia, Andorra, China and Suriname. Jonny has also travelled to some lesser known places such as the Republic of Uzupis, Podjistan, Nauru, Kugelmugel, Sark, Antarctica, Nagorno Karabakh, Iraqi Kurdistan and The Empire of Austenasia. Jonny aims to inspire other people to get out there and see the world with their own two eyes.
❝

Travel provides diversity of seeing new places, meeting new people and the huge adventure. Be a tourist everyday.

❞
Hello! What's your name, where are you from, and where have you travelled to in Europe?

My name is Jonny Blair. I grew up in Northern Ireland and later lived in England and Poland. In Europe, I have visited over 50 countries that I personally recognise from Wales to Andorra to Uzupis to Belarus to Malta to Northern Cyprus. In terms of UEFA / FIFA teams, Albania (as of 2021) remains the only one on that list that I haven't actually been to. Twice I was in nearby Montenegro. On one of those trips, I took the wrong bus, and on another, the bus was cancelled. So my destiny lies with Albania still to visit, plus a few other lesser recognised parts of Europe like Gagauzia and Seborga.

In one sentence, why should someone travel to/through Europe?

I'll do it in one word - diversity! The amount of languages, landscapes, food, drink cultures, religions - it is so diverse. The only disappointing aspect for me is that the borders have gone in some places, as have the real currencies such as the Drachma, Deutsch Mark and the Gilder. But the experience itself shows Europe is still diverse and in such a dense geographic area.

What motivated you to take your first trip to Europe?

I grew up in Europe so I was always in it, but of course I wanted to learn about other cultures, history and food such as Polish culture, French history and Italian cuisine. Football played a big part in my journey too and I have backpacked and groundhopped a load of European football stadiums on my journeys.

What went into planning your first trip to Europe?

My first major European adventure was with my family so Mum and Dad planned it - we got a ferry from Republic of Ireland to Wales, through England and then a ferry to France. My next trip was organised by the school. So it was only when I was over 18, that I actually organised it myself. The planning wasn't a big part of it - I was quite spontaneous. I chose to do it spontaneously as I was going to new places and they are unpredictable - you don't know what will happen there and what you might do so it is hard to plan.

If you had to plan one final, perfect Eurotrip, what would the itinerary look like?

I would make sure that a train was involved. I love train travel. Traveling from Minsk to Lisbon overland using trains would be epic. Start in Belarus, rail into Poland, then sample Slavic delights in Czechia and Slovakia before heading south through Romania, Bulgaria and Hungary. Delve into the Balkans and then Italy. From Italy, veer north through Austria and France before swallowing some smaller countries - Monaco, Seborga, Andorra, Catalonia and Gibraltar. Finally rock up from Madrid into Lisbon. It could also be adjusted to add in Germany, Luxembourg, Liechtenstein, Netherlands, Belgium and Moldova.

What's your advice for first-time Eurotriprs who are just starting to plan a trip?

Sadly, I'd say take lots of Euros because they can be used in multiple countries and there are not ATMs everywhere and not all places will accept your cards, plus your cards could get lost/go missing, go out of date etc. So bringing physical cash in Euros is a big tip. I'm not a fan of countries sharing one currency but sadly it works in Europe and that's the main advice. That said, I'll always perfer countries like Bulgaria, Romania, Poland, Czechia and Croatia all of whom still keep their proud local currencies.

Other advice includes sleeping in hostels, use social media so you an easily add and befriend your quick fire buddies. Drink in many bars and cafes and just meet as many people as you can.

What have been some of the biggest challenges you've faced when planning your Eurotrip?

Visas. I guess in Europe, Belarus and Russia were the toughest ones - they can cause problems, frustration and many embassy visits.. Aside from that, only the languages really.

In your opinion, is Europe an expensive place to travel? Why / why not?

It depends on the country. Moldova is very cheap while Norway is very dear. But then again it also depends how you travel. I tend to be hostel loyal so I get cheap and easy beds, look for promotions and backpack sights on my own.

What are the 3 most important things to consider when packing for a trip to Europe?

Talk to as many people as you can.
Cram in multiple countries. Nobody is promised tomorrow so travel fast and hard and skip sleep - move fast. Those who move slow are often ebbing their lives away and spending too long in the same boring places.
Be as local as you can, everywhere you go (you can kick Ratsbucks (Starbucks), Burglar Queen (Burger King) and DickMonalds (McDonalds) into touch for starters)

How would you pack differently for a 1-week trip to Europe versus a 1-month trip?

I wouldn't. I would pack exactly the same. Clothes can be washed and there is nothing you need in a month that you don't need in a week. Money can be withdrawn as you go.

How do you primarily get around Europe? (train, car, bike, plane)

Train loyal. Bus as a substitute. I love the thrill of a train journey, as long as I have a seat. I can read, write, gaze out the window and relax. Buses and cars have more unpredictable movements and traffic jams - trains tend to keep the same route and are smooth. Being up in the air isn't good for me either - it can be scary.

What is your favorite destination in Europe? Why?

Northern Ireland. I was born there and it's always under-rated. I love it. I have visited Northern Ireland 99 times and spent longer there than in any other country. I love the north Antrim Coast - the Giant's Causeway, Bushmills etc. and I love the local food such as soda bread, potato bread, vegetable roll, pastie suppers and the Ulster Fry. It's also a small and less visited country with its own banknotes and a history of war.

What was your first trip to Europe like?

I was young and enthusiastic but I didn't understand enough about the other cultures to really get it. It took me a while to truly get into things. I took it step by step at the start - one country at a time, doing research and trying to understand all the different cultures.

Can you tell us about a funny story/situation you've been in when traveling in Europe?

I have many of these. Recently I went naked in the Republic of Uzupis (which borders Lithuania) and this was part of a promotion for my book series, "Backpacking Centurion". There is a river in Uzupis and there are some seats on the water. There are trees to hide behind. I saw a few local people there and one was running an art gallery and coffee shop. I felt free and inspired so I whipped off my clothes and walked in the river naked. There was a small audience watching and some girls took some photos of it. I had my book with me just after that and I covered my willy region with the book, but before that, everything was on display and it was real freedom. Local artists and girls were out watching and found it amusing. Art should always be admired.

How do you find social connections while traveling around Europe?

I joined Facebook, Bebo, YouTube, Twitter, Instagram, LinkedIn etc. I advise joining as many of them as you can and keep adding new friends. I meet new people everywhere - I talk to as many people as I can - on buses, in hostels, in bars, on tours, in the street etc. I love meeting new people.

What is your preferred type of accommodations? Why?

Hostel loyal. Cheap, cheerful, young, easy to meet people, well located, addictive.

What are some of your favorite foods in Europe, and in what countries are they found?

Ulster Fry - Northern Ireland,
Pizza - Italy,
Pierogi Ruskie - Poland,
Rye soup in a bread roll - Montenegro,
Kebabs - Turkey and everywhere.

If you've travelled through Europe more than once, what has changed in how you plan your trip now from your earlier trips?

The internet is widespread now and it's too easy. I used to use only physical paper maps. Unfortunately Google Maps have even snuck into my own itineraries now. Basically the internet changed it all. I prefer the old system with maps and people in bars who talk to each other rather than hide into their "smart" phones.

What does travel give you that everyday life doesn't?

Diversity of seeing new places, meeting new people and the huge adventure. Be a tourist everyday.

When you come home from a trip to Europe, has it changed you? How?

I don't really change much. Only if I fall in love.

What do you wish you knew before your first trip, that you know now?

That not everyone out there is honest. You can meet some bad people too and sadly they will dominate over the happy, good people. I only really met 3 bad people on my journeys, yet I met over 5,000 good people. But those 3 have affected my depression ever since 2014. So my advice here is still to be careful and wary of who you meet - not everyone will be honest.

What is your best tip to someone wanting to travel to Europe for the first time?

Check your visas, bring enough money and do your research into the cultures you will visit.

Where can we stay up-to-date with and learn more about you and your travels? What can we expect from following you?
---