Serbia is a budget-friendly destination known for its natural beauty, rich history and delicious food. Explore Belgrade, hike in Kopaonik, relax in Vrnjacka Banja and take a boat ride on the Plitvice Lakes all while trying traditional dishes and locally made rakija!
Serbia is a country of contrasts, with a mix of modern cities and ancient monasteries, lush green forests and rolling hills, and a rich cultural heritage. The capital city of Belgrade is a bustling metropolis with a lively atmosphere, excellent nightlife, and a rich cultural heritage. Other popular cities include Novi Sad, Nis, and Kragujevac, all of which offer a wide range of accommodations, restaurants, and activities.
The country is home to a number of natural wonders, including the Fruska Gora National Park, the Djerdap National Park and the Uvac Special Nature Reserve. The country's highlands are dotted with beautiful monasteries, including the popular Studenica Monastery and the Ravanica Monastery.
Serbia has a rich and diverse culture, with a mix of influences from various civilizations. The country is known for its traditional music and dance, as well as its delicious cuisine, which features a mix of Mediterranean and Central European flavors. Serbia is also home to a number of cultural and historical landmarks, such as the Belgrade Fortress, the Petrovaradin Fortress and the ancient city of Sirmium.
Aside from experiencing the country's beautiful landscapes, rich culture, and vibrant cities, travelers to Serbia can also indulge in a variety of activities and attractions. Take a stroll through the historic streets of Belgrade, the capital and largest city of Serbia, and explore its fascinating blend of Austro-Hungarian and Ottoman architecture. Visit the impressive medieval fortress of Kalemegdan and the Nikola Tesla Museum.
Outdoor enthusiasts can hike through the stunning mountains of Kopaonik or Tara, or enjoy skiing in the Zlatibor or Stara Planina regions. Taste the delicious local cuisine, including traditional dishes such as cevapi and burek. There are also many monasteries, churches, and other religious sites that are worth visiting. Serbia is a country that has a lot to offer to visitors."
Overall, Serbia is a fascinating and diverse country with a rich cultural heritage. Visitors can explore the country's diverse landscapes and landmarks, indulge in delicious local cuisine, and experience the vibrant culture and music. Whether you're interested in hiking, skiing, or simply soaking up the local culture, Serbia is a must-see destination.
Current Active Cases: 178,564 🤮
Percent of Population: 2.04%
🎉 There are no COVID restrictions for Serbia. 🎉
⚠️ Measures to contain COVID-19 remain in effect, including night-time curfews from 11pm to 6am, and mandatory face masks indoors and on public transport.
⚠️ All land borders are open and there is no restricted movement around the country.
⚠️ All foreign nationals over the age of six must have one of the following: proof of vaccination, a negative PCR test taken less than 72 hours before arrival, a rapid antigen test taken less than 48 hours before arrival or evidence that you have recovered from COVID-19 within the last six months.
Last updated Feb 20, 2022
COVID status and restrictions change frequently. Please be sure to research COVID restrictions for Serbia on official channels to ensure you have accurate travel information before you plan your trip.
🗣 Primary Language
Serbian
🔌 Power
230V, type F plug (2 round pins)
👨‍👩‍👧‍👦 Population
6,908,000
🗺 Land Area
34,116 sq. mi.
📍 Region
Central Europe, Southeast Europe
💁‍♂️💵 Tipping
Optional (10%)
👨‍👩‍👧‍👦📸 Tourists per Year
1,850,000
🕺🏻💃 Gender Ratio
🕺🏻 48% 💃 52%
👨‍👩‍👦‍👦 Population Density
259 / sq. mi.
🔪 Murder Rate
1.68 / 100,000
🌧 Rainfall (average)
35 in.
📡 Internet Speed (average)
24.74 Mbps
🚰 Tap Water
👍 Safe to Drink
See something wrong or missing? Edit ✏️ the costs for Serbia
🎒💵 Cost per day - Backpacker
$23
👨‍👩‍👧‍👦💵 Cost per day - Family
$95
🏠 Apartment (per night)
$35
🏠 Apartment (per week)
$200
🏠 Apartment (per month)
$550
🏨 Hotel (per month)
$1,400
🌟🏨 Luxury Hotel (per night)
$139
🌟🏨 Luxury Hotel (per week)
$1,100
🌟🏨 Luxury Hotel (per month)
$4,250
🛏 Hostel (per month)
$275
🏠 Airbnb (per month)
$850
👨‍👩‍👧‍👦🍽 Dinner (family)
$35
👨‍👩‍👧‍👦🍔 Lunch (family)
$23
👨‍👩‍👧‍👦🍳 Breakfast (family)
$15
💰🤑 Cost per day - Luxury
$165
🚙 Car Rental (per day)
$30
🚙 Car Rental (per week)
$225
🚙 Car Rental (per month)
$600
Top 10 things to do / places to visit when visiting Serbia
There are no Eurotrips for Serbia yet.
🚧 I am still working on this feature. 🚧
Belgrade
Serbia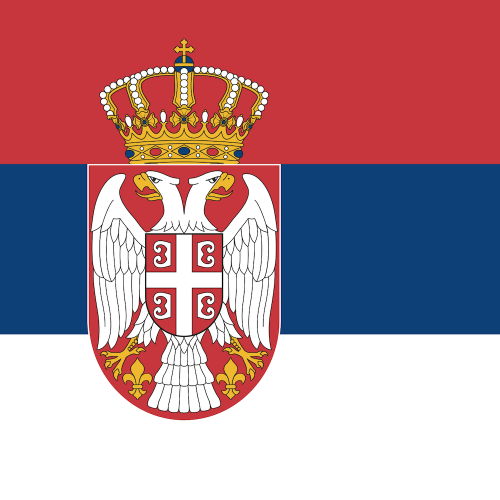 Current COVID Restrictions 😷 for Belgrade.
Current Active Cases: 0 🤮
Percent of Population: 0.00%
COVID restrictions not available at this time.
Last updated July 13, 2021
There are no Interviews or Podcasts for Serbia yet.